$39.99
$0.00
Crayola™ Adult Mask Set, Power Pastels, 5 Masks for Adults or Teens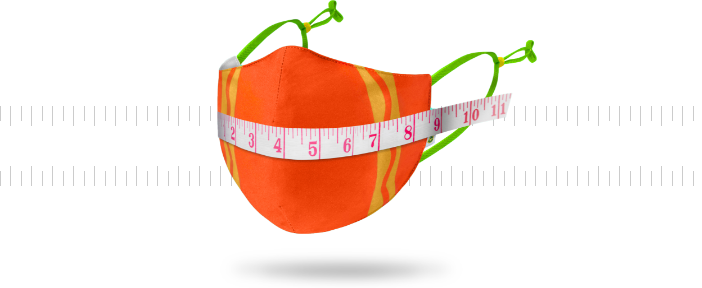 Mask Size Chart
Using a measuring tape (the soft, flexible seamstress kind not a flat ruler), place the tape over the bridge of your nose and follow the natural curve of your face. Use the dimensions from our size chart below to see how the mask will cover your face. Note that our ear straps are stretchy and adjustable to help create a secure fit once the mask is on. When measuring the vertical dimension, start from the middle of the bridge of your nose, essentially where the mask will sit along your nose during wear. 
Our 3-D masks are designed to fit closely and snugly to your child's face to create a secure fit. The adjustable, secure-fit design helps it fit to a variety of face shapes and sizes. We recommend measuring your child's face and compare with these measurements to determine coverage. If you prefer more coverage, you may consider sizing up to our teen/adult size.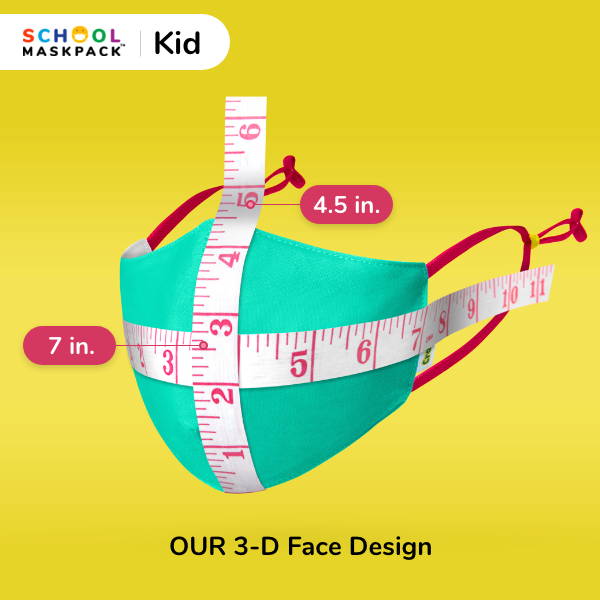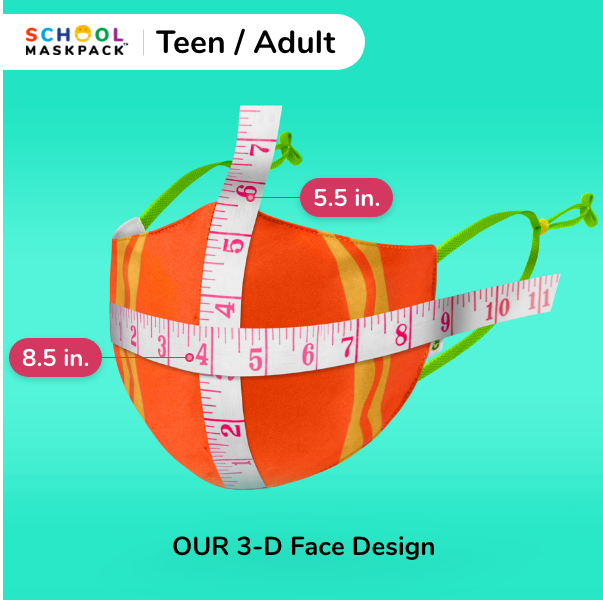 Our teen/adult size is designed to fit a wide variety of adult face shapes and sizes due to its adjustable, secure fit. If you measure your child's face and find you prefer more coverage for their face size or shape, you may consider sizing up to the teen/adult size.
Our XXL Mask offers 40% more coverage than our standard adult size. This size is ideal for those who have larger or wider face shapes, or those who want coverage for facial hair and beards.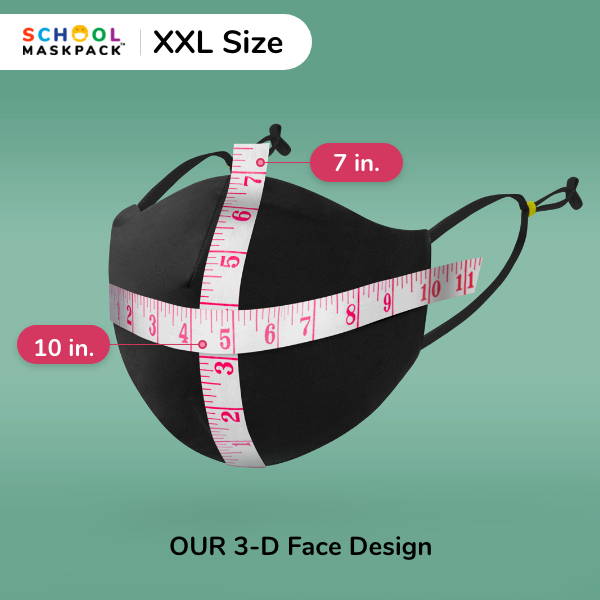 Only $8/mask and that's just 25 cents a day!
Official licensed Crayola™ product.
Product Features

Daily Face Masks for Teens/Adults


5 cloth face masks with unique Crayola™ color designs for each week day.



No Fuss Secure Fit


Made of dual-layer fabric with a 3-D face design, secure fit adjustable ear straps, and a nose clip. Prevents your mask from slipping off and keeps glasses from fogging!

Relieve Ear Tension


Adjustable ear straps tighten and loosen to your comfort level and ideal fit.

Machine Washable


Just put these machine-washable masks in the mesh laundry bag included and toss them in the washing machine. Each mask can be washed and reused up to 30 times!

Organize by name tags


Keep track of the masks by organizing them by name with the included name tag.

Environmentally friendly


Reduce environmental waste caused by disposable single-use masks.
Our Crayola™ non-medical mask packs for adults and teens come with a 5-mask system featuring unique face mask designs to avoid cross-contamination in each day of the school or working week. Look no further than our Crayola-branded masks for quality comfort in all-day mask wear.
In-stock orders ship in 1-3 business days
Care Instructions
How to Care for your SchoolMaskPack
We care about mask care! To clean our reusable cloth face mask sets between uses, simply put the masks inside the mesh laundry bag provided, toss it in the washing machine and go. Please ensure to store clean masks and worn masks separately as to avoid cross contamination. 
Follow our care instructions for the best results: 
Wash before use. 

Machine wash* gentle cycle and tumble dry low inside the mesh laundry bag provided. 

Wash with like colors. 

Wash after each use. 

Do not dry clean.

Do not use bleach.

For the SchoolMaskPack Liquid-Repellent Masks, do not use fabric softener as this will damage the liquid-repel treatment. 

Do not iron the ear straps.

Store clean and used masks separately to avoid cross contamination.
*Please note that the SchoolMaskPack 3D Holiday Collection Masks are hand wash and hang dry only and do not come included with a mesh laundry bag, but instead a decorative Santa Gift bag.
Disclaimer
Due to the hygienic nature of the product, we do not accept returns or exchanges.
SchoolMaskPack Fabric Mask Products: These fabric masks are non-medical, non-surgical, and non-industrial masks and not intended to be used in these situations or high-risk situations. This product does not guarantee prevention from transmission or infection of disease. This product is not intended to be used by children under 3 years old and should be used under adult supervision. Small parts may present a choking hazard. 
This face mask is not to be used in any surgical setting or where significant exposure to liquid, bodily, or other hazardous fluids may be expected, used in a clinical setting where the infection risk level through inhalation exposure is high, or used in the presence of a high-intensity heat source or flammable gas. This product has not been FDA cleared or approved.
Due to lighting and different devices you might be using, the color in the image may vary slightly from the actual color of the product.
SchoolMaskPack™ Mask Straps: Not recommended for children under 4 years old. Use under adult supervision. Potential choking hazard for young children or children at play.
Customer Reviews
Write a Review
Ask a Question
05/22/2021
Anonymous

United States
I recommend this product
My Favorite Crayola Color is Magenta
Having purchased one adult mask 5-color set at the beginning of stay-home, and recently having purchased another similar plus an adult pastel set, it pleases me to report that I am delighted will all of them. The handy little net laundry bags are ideal, too. I'd still rather be coloring with Crayolas than mask-wearing, though! Thank you for bringing smiles back!
05/14/2021
Anonymous

United States
I recommend this product
Love these masks!
These are the best masks. I love that they are adjustable to get a great fit!
05/14/2021
Anonymous

United States
I recommend this product
Crayola Adult mask set
Good. My nine year old likes them.
05/03/2021
Bertha C.

United States
I recommend this product
Perfect fit!
They fit perfectly!
05/02/2021
Anonymous

United States
I recommend this product
Excellent,very good material and comfortable
04/23/2021
Anonymous

United States
I recommend this product
Awesome!!
Very good product
04/22/2021
Anonymous

Canada
I recommend this product
I love these masks
Good quality, it fits so well!
04/09/2021
Anonymous

United States
I recommend this product
Great for teaching
These masks are great for teaching! The have a great fit and seems to wick away moisture. I have already recommended them to my colleagues!