.SAVE 13% PICKNATURE 100% USDA Organic Butterfly Pea Flower Tea 3.50 oz.
Blue Tea Flowers for Drinks & Food Coloring, Purple Tea, Dried Herbal Flowers Clitoria Ternatea, Non-GMO, Vegan, Caffeine & Gluten Free
The Perfect Choice - Whether you love the nutrient rich benefits of butterfly pea flower tea, or you are looking to create fun, colorful cocktails, and desserts. Picknature provides the highest quality 100% organic tea flowers for you to enjoy!
Premium USDA Organic Tea - Picknature Butterfly Pea Flower tea is certified organic by CERES and sustainably sourced from our partnered organic farmers in Thailand. Our product is made with only Non-GMO butterfly pea tea to provide the highest quality flower tea and nothing else!
Create Beautiful Blue & Purple Recipes - Picknature butterfly tea can be used as a natural blue & purple food coloring. Use 1-2 tsp of flowers for natural blue food coloring, and add a dash of lemon juice to have your recipes turn purple. Create colorful cocktails, pastries, and desserts for your next party with our blue butterfly pea tea!
Packed with Natural Nutrients - Picknature butterfly pea flowers have a natural and delicious taste and are packed with many health promoting benefits. Pea flower tea contains anti-inflammatory benefits, help decrease oxidative stress and promotes healthy skin and hair.
Satisfaction Guarantee - We stand by our product by using the highest quality USDA organic butterfly tea flowers. If for any reason you are not 100% satisfied with our product within 30 days of purchase, we will be happy to provide a full refund and make it right.
What is butterfly pea flower tea?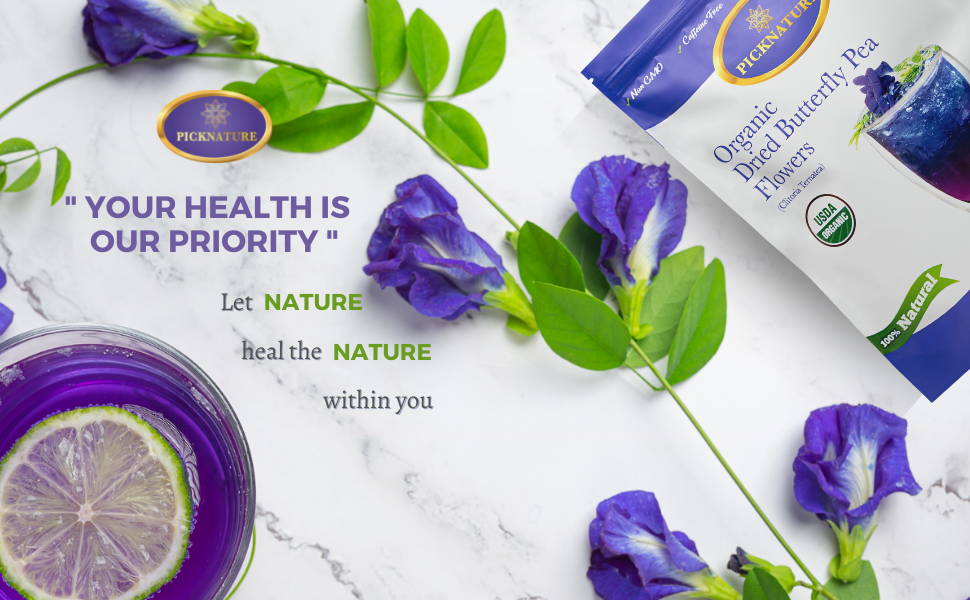 "These butterfly pea flowers are 100% organic, The flowers are grown naturally in northeast Thailand where the weather is perfect for butterfly pea vines"
Healthy Blue Tea by Organic Dried Butterfly Pea Flowers From Thailand

While a lot is known about green tea and black tea, there are not many who know about the benefits of blue tea. This variant has an appealing, yet malleable taste. Between this wonderful drink's ascetically pleasing range of colors, many health benefits and it's abundance of creative uses, it makes a great addition to your kitchen.
Blue tea, or butterfly pea flower tea is made by seeping dried or fresh leaves of the Clitoria ternatea plant. The best thing about blue tea is that it is absolutely caffeine-free, and it is packed with high nutrition,. Which means it's great for a late night, hot or cold beverage depending on your mood.
The butterfly pea flower is a blue colored flower with a beautiful petal formation.
In modern time, people also make drinks out of butterfly pea or put it in their favorite cocktails to add beautiful color. Very few know that the deep blue vivid colored flower gives more benefits than just beauty and food decorations.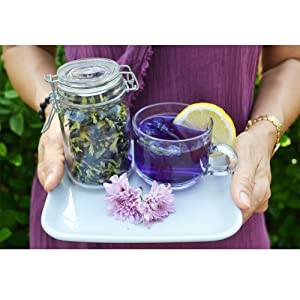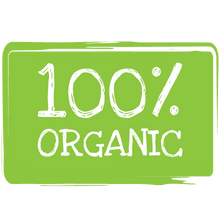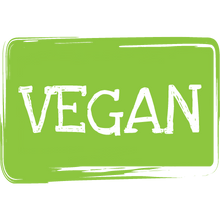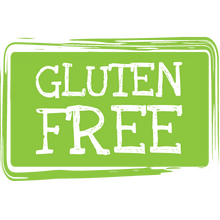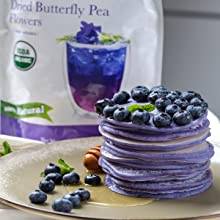 DECORATING INGREDIENTS FOR BLUE PANCAKES
These are healthy pancakes made from plant-based, vegan and contain no artificial colors.
This flower creates a wonderful blue or purple color, being widely used as an all-natural food colorant.
BLUE TEA IS CAFFEINE FREE
Blue tea can be made as any other regular tea,should be had without any additional sugar or honey. Then ginger and cinnamon can be added to the concoction. Plus lemon juice as it adds an additional boost to the already wonderful beverage.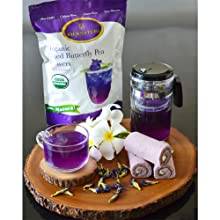 IDEA FOR AFTERNOON TEA PARTY
When thinking about tea parties we would like you to treat your family, friends and guests to an afternoon purple tea party with purple cake. And it can be for Birthday party.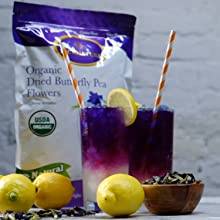 MAGICAL COLOR CHANGING MARGARITA
This Magical Color Changing Margarita is all –natural – no food dye! A secret, natural ingredient makes this margarita turn from blue to purplish pink right before your eyes! Make this fun and unique margarita.
Impress your guests at special event!
Our Recommended Drinks For Those Hot Days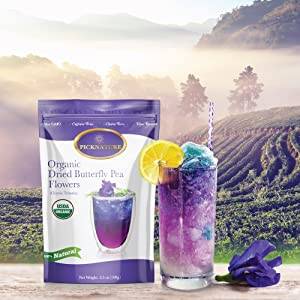 Squeezed Lemon. Juice, Crushed & Frozen Butterfly Pea Tea with Sparkling Water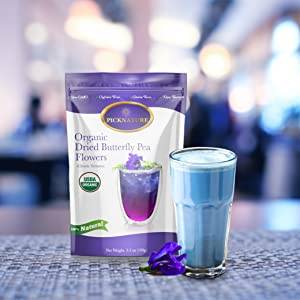 Concentrated Butterly Pea Tea with Any Type Of Cold Milk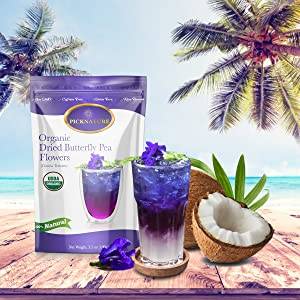 Coconut Water & Butterfly Pea Tea with Ice Cubes